This year i decided to participate in the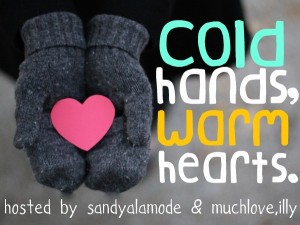 Cold hands warm hearts swap!
I should have taken pictures of the package i got from Kaity
but the excitement of opening the package got the better of me.
i have never been so excited to open a present in my life
it was so much fun to see what a complete blogging stranger
would pick out for me out of three little questions i answered
and here are my fabulous gifts
(unfortunately i haven't taken an outfit picture with my gloves but that is soon to come)
These gloves are the long kind of gloves
that would go perfect with a cape jacket
now i have an excuse to get a cape jacket
thanks kaity ;)
CHRISTMAS MUSIC!
oooo and not pictured is the most delicious chapstick i have ever tasted!
its Chai tea!
Thanks so much for my gifts Kaity
so happy to meet another blogger
and so happy to do this swap!
Now that you have read about how much fun it is
you should do it next year!